First of all, let me just say: I'm so happy to be back to blogging! Second, let me also say: 2018 has been one tough year. I'm so ready to move on and hope for brighter horizons in the New Year!
This goes without saying, but I had to take a bit of a hiatus from my website. After some staffing rearrangements at work, I was asked to go from half time to full time in the library just two weeks before our academic semester began, and I had already committed to teaching for the semester (a brand new course, which means lesson plans and preparation from scratch), not to mention my other freelance commitments AND my commitments as a mom as well. Something had to give, and unfortunately, that something was my design work. So, I gave myself the semester off from designing and working on my blog and website. I missed it terribly, but there are only so many hours in a day, and I usually have to spend at least three of them sleeping!
Now, just because I wasn't designing doesn't mean I wasn't knitting! Designing is incredibly rewarding, but it's also time-consuming, knit-picky (pun intended) work, and it doubles the amount of time you would spend on a given knitting project as you have to write down and calculate out your every knitting move as you go along! So, with the design pressure off for the second half of the year, I was able to focus on completing knitting projects from my previous designs or from other designers, and I churned through quite a number of projects! I'm going to highlight some of them here, for no other reason than to remind myself that 2018 was NOT a total knitting loss!
First of all, the year began with my Glenfinnan Cardigan, which I published on Ravelry in early March after nearly three months of work. This was a complex design with many different construction elements, but I'm happy with the final product.
My friend Heather from my workplace was kind enough to model the Glenfinnan in an orchid pink.
I also made a second version specifically for Knit Picks using Wool of the Andes.
My next design was the Saqqara Cowl, which I finished in May. It's a simple all-over pattern that reverses colors halfway up the length. It has been a little slow to sell, but I have to say I really like this design for its bold geometric pattern and versatile length.
Shortly after the Saqqara, I published my Bardsea Hooded Scarf design. This was deceptively complex to design, but I really like the way it looks, particularly in the beautiful alpaca/cotton blend yarn I used!
I also made another version for Knit Picks from their gorgeous City Tweed Aran/HW yarn – probably my favorite yarn of their collection, in my FAVORITE color (Morning Glory) as well!
My penultimate design for the year was the Something Fishy Baby Cardigan which I published in July.
I say "penultimate" because I *JUST* snuck in a last design in the last few days of 2018. I can't publish anything about it here because I've submitted it for a published print collection. Fingers crossed it gets accepted, but if not, I'll be publishing it myself in the upcoming months!
Leaving behind my designs for the year, I also knit up my yearly supply of Icelandic Lopi sweaters – probably my favorite kind of sweater to knit and my favorite wool in the world. I tend to knit Lopi in the summer – despite how warm it is – because it's quick to knit up and I don't have to concentrate too hard. I knit this first sweater up in the summer, but I didn't photograph it for months, because I knew it just HAD to be set against a snowy background. We had our first snowfall on November 17, and that's when I ran out with sweater in hand and mom in tow to take photos in the field before the snow melted away. I just love the way this sweater turned out, and I especially love that it's now in the hands of my friend Annick in Geneva!
I knitted two men's Lopi sweaters, and they are in storage until my brother comes home in a matter of days. He's my best sweater model, so I'll wait for him to model them for me!
But wait – did I say best sweater model? Sorry, I think that prize goes to this little guy, in a child's Lopi sweater I finished just recently! He wears it so well!
Beyond the Icelandic sweaters, I focused on holiday sales with some giftable items. My best-selling owl mitts went quickly this year.
I knit up two of my Rona Cowls in now discontinued Reverie yarn, a gorgeous baby alpaca blend from Knit Picks. I loved this yarn and I'm glad I still have a few balls in my stash. Here is Rona in natural.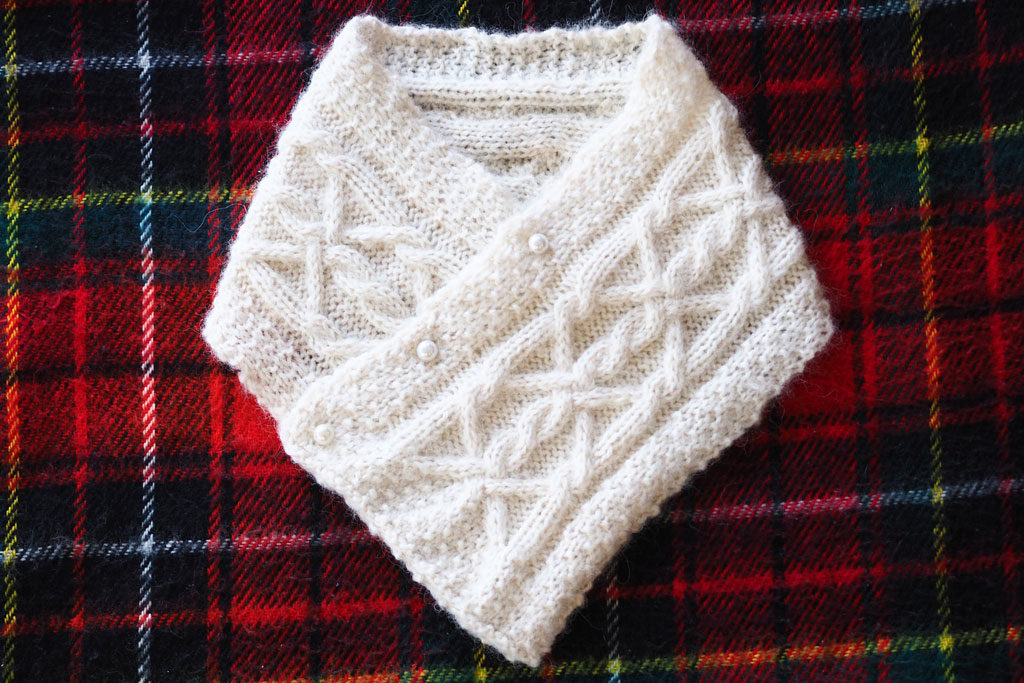 I knit this SUPER bulky cape in semi-spun roving. It's ridiculously warm for a relatively small piece, and it has the look of something Claire would be wearing on the snow-covered Highland peaks in Outlander!
Finally, I developed a friendship with a lovely client and knit her a number of items, including these two Caiseal hats. I'm currently working on a custom scarf for her, and I LOVE the colors she has chosen! I hope she'll love it too!
I can no longer call 2018 "The Year of No Knitting." I was productive after all! And I'm so excited to be back to blogging and designing for 2019! Happy New Year friends, and I hope to see you here soon!