**PLEASE NOTE**: This project involves sharp edges, sharp cutting tools, and permanent marker, all of which can lead to accidents and injuries. This project should be completed only under adult supervision.
I am a big fan of pompoms. They make a great addition to child and adult hats, scarves, ponchos, you name it. They can also hide awkward mistakes and give weight to flighty edges. What's not to love?
Well, I can think of one thing: trying to find the perfect pompom maker kit. I have some lovely ones from the 1960s, but they've seen better days. So, I've used them as a model to make my own pompom makers, and I'll show you how to make your own as well.
You can create pompom makers in any size, really, but I find that 1″, 2″, and 3″ diameter kits cover most of my needs. You could go really wild with a giant 5″ diameter, and I dare you to try to make a .5″ diameter! Here today, we will be working on a 3″ diameter pompom maker.
The finished project will look like this:
You will need these few household items:
First, I've found that the large plastic water jugs are perfect for pompom makers. The plastic is the right thickness, flexible, non toxic, and cuts well with a pair of scissors. Plus, there is a large flat expanse of plastic on the back. However, you could use any number of plastic containers to meet your needs – poke through your recycling for something flat, flexible, and easy to cut, if you don't have an empty water jug available.
Along with the plastic, you will need a pair of scissors or a swivel knife for cutting, a pencil and permanent marker, and a ruler. You could use an old fashioned compass to draw circles, but I find it easier to use containers with openings of various circumferences to trace the circles onto the plastic. Search through your cupboards for cups, lids, funnels, pennies: anything with a round opening of the right dimensions. Use the ruler to measure the diameter. You'll need a smaller object for the inner diameter circle, half the diameter of the outer circle. So, for an outside diameter of 1″, you'll want an inner diameter of .5″, for the 2″ you'll want an inner diameter of 1″, and for the 3″ an inner diameter of 1.5″, and so forth.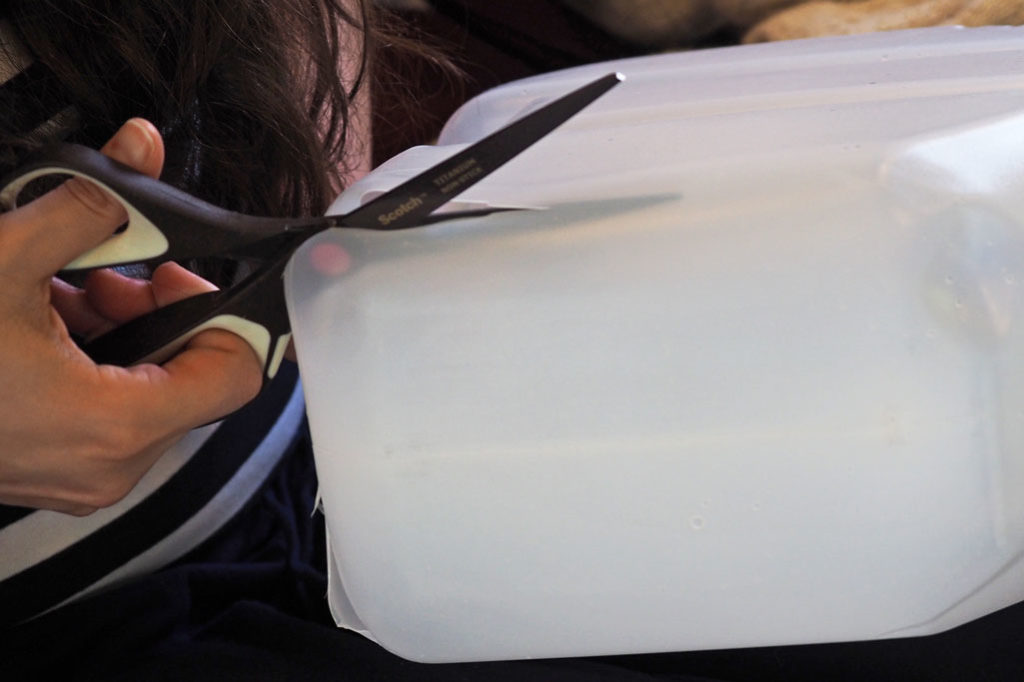 First things first: cut the back off of your water jug, or cut out a flat piece of plastic large enough for 2 circles of your chosen diameter.
Once you have a flat piece of plastic, place your traceable circle on it and make sure there is enough room for two circles with a little space in between.
Now trace around the circle using a pencil. You'll have to press down fairly hard to make it visible:
Once you've traced two circles using pencil, go over the pencil marks with permanent marker so they are easily visible. Do not use the permanent marker to trace around your container, or you'll have permanent black ink all over the edge of the container!
Once you've traced the complete circle, it should look like this:
Trace the second circle, and you are ready to move on to the next step.
Now you'll be tracing the smaller, inner circle just as you did with the larger, outer circle. Using a smaller circular container/coin/etc., center it in the middle of the outer circle. I just eyeball it, but you could use your ruler to measure and make sure it is centered just right:
Once again, using your pencil, trace the inner circle:
Go over your pencil tracing with permanent marker:
Voilà! You now have two donut shapes ready to be cut out.
Cut carefully around each outer circle with a pair of scissors:
The inner circles are a bit trickier. You'll need to puncture through with a sharp point to get started, or cut around the circle with a swivel knife. In either case, USE CAUTION!
If you end up with rough or jagged edges on your inner circle, you may want to smooth them out with rough sand paper so they don't snag your yarn.
The permanent marker should not rub onto your yarn, but if you are worried about it, use a little rubbing alcohol on a cotton ball to remove the marker from the plastic. Wash the plastic in water and dry it before use. Now you should have two lovely plastic donuts of the proper dimensions, ready for pompom making!
Stay tuned next time when I'll show you how to use these little donuts to make a lovely, squooshy pompom!