This past week my family and I returned from our trip abroad to visit my brother in the UK. It was a wonderful trip, with unbelievably nice weather, lots of sights to behold, and most of all a chance to spend time as a family. I will be regaling you with photos from the trip for quite some time to come, but for my first post, I'd like to tell you the tale of Woolfest 2019. It's a story to rival the great Icelandic sagas, to be sure.
We started our trip in Edinburgh, Scotland among the thousands of other tourists, and then we headed to Cumbria where my brother lives. From his home town we made excursions into the Lakes District and beyond. My brother did an amazing job of navigating narrow, twisting farm roads in his little Ford Fiesta.
Our longest excursion began with a trip to Hadrian's Wall, the Roman-era barrier constructed to keep the wildlings…err, I mean the Scots…out of Roman Britain. Nearly two millennia of wear and tear have brought this imposing structure down to a more manageable size, but it still runs the length of the UK from coast to coast, not far from the contemporary border between England and Scotland. We visited Birdoswald Fort, the remains of a Roman fort and barracks along the Wall. We all had a great time exploring the ruins and enjoying the cows and sheep who share space with tourists at this site.
The weather couldn't have been better – it was actually HOT – and the picturesque scenery was a treat.
After we had a picnic lunch at Hadrian's Wall, our next stop was meant to be Castlerigg Stone Circle near Keswick in the Lakes District. But I had other plans. I figured this was our perfect opportunity to find a local yarn shop or spinnery and buy a little yarn. So I asked my brother to do a quick search on his phone. He came up with The Wool Clip, a local fiber arts cooperative with hand-spun, hand-dyed, locally sourced wool for sale. It sounded like a dream come true! And it was only about 20 minutes out of our way! So off we went to track down this little wool paradise.
Always easier said than done, however. Our GPS brought us to the little town and dumped us by a rushing brook and campground: you've reached your destination! We wandered aimlessly for a bit, enjoying the views in this quaint little village, but not seeing anything like a wool shop.
We walked by a church and along the river, and finally we realized we'd have to cross the river to the lower bank. More views along the way!
FINALLY we made it! Only to find The Wool Clip CLOSED! Vastly disappointed, we stopped into the shop next door to inquire. The kind lady inside told us that The Wool Clip was closed today because of Woolfest 2019.
Ummm, what is this Woolfest 2019 of which you speak?
She handed us a flier for a big fiber festival inside a livestock auction center, about 30 minutes drive from Caldbeck. All the local fiber artists were there. We had hit THE MOTHER LOAD.
There was some dissent among the troops about another wild goose (or sheep) chase off our path, but my brother insisted that we had come this far, and it was mostly along the way to Castlerigg, so we'd give it a try. The only problem was that we didn't have an address for the GPS. It was simply in the livestock auction house in Cockermouth.
We made it to the town center, but there was no Woolfest in sight. Tensions were running high. We did another search on the GPS and found what might be an auction house. SUCCESS! The parking lot was bustling, and yarn folk were seen milling about the building. This had to be it!
Inside was heaven. Stall after stall of fleece, wool, roving, spinning and weaving materials, fabric, and SHEEP. I just loved that you could meet the sheep who supplied the wool for purchase!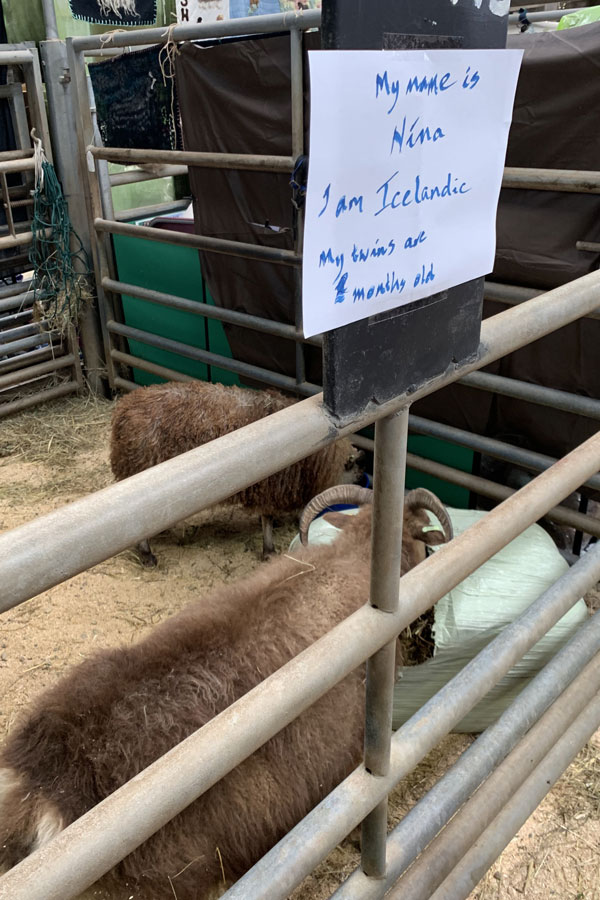 We stopped by a number of stalls. I was specifically looking for locally sourced fiber – a perfect way to remember the trip! I loved the wool and alpaca in one particular stall.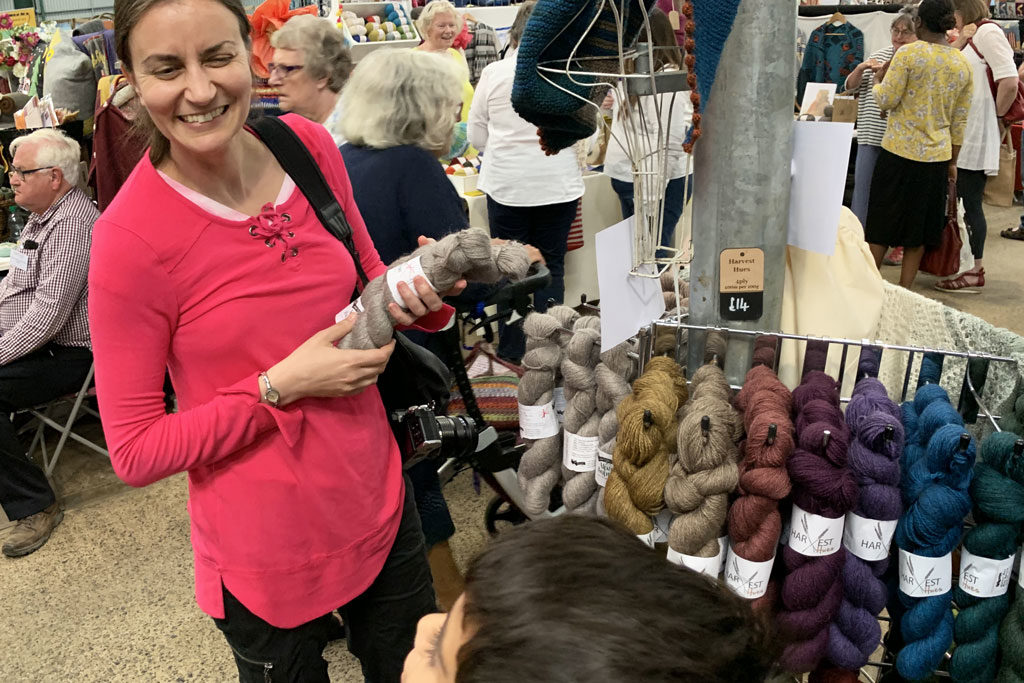 There were so many amazing items for sale. Just look at these hand-dyed beauties!
One thing that absolutely caught my interest were the rare breed sheep and sheep products. There were many rare breeds and rare breed products on display.
One stall featured Manx loaghtan, a breed native to the Isle of Man with four and sometimes even six horns! I loved the warm brown of the natural undyed wool.
We loved the two Shetland sheep who were visiting. One was very talkative!
I wish we had had more time to spend at Woolfest, but even our quick stop really made the trip. I walked away with some great finds, a few gifts for my mom, and an adventure never to forget! We are already scheming to get back to Woolfest 2020!
But, the standing stones were calling, the troops were restless, and it was getting late. Time to move on. We headed down to Castlerigg, a glorious stone circle in the Lakes with stunning views of the fells all around. It's also one of the earliest stone circles in the UK. Plus, they have an ice cream truck set up outside! A perfect end to our daytrip!
Thanks for journeying with me. I'll have more to tell next post!