In the first of this three-part blog series, I ran through a step-by-step tutorial on provisional cast-on technique, and we ended by placing the live stitches back on a needle. Now in this second part, we will be "seaming" the live stitches using the three needle bind off technique.
There is something immensely satisfying about three needle bind off. I love the speed of it, the nice neat edge, and the fact that it doesn't require a sewing needle! I try to use three needle bind off whenever and wherever possible.
One thing to note is that this sort of bind off creates a raised seam edging, which is quite attractive, but may not be what you are looking for. When you want the seam to be less noticeable, just turn your work inside out while binding off so the raised seam will be on the inside of your work!
So, first things first, you'll want to flip your hedgehog cover inside out, so the wrong sides are showing. Then you will want to divide the stitches evenly on two sides of a circular needle, or two straight needles. Hold the needles so the points are both facing right.
The long tail you left at the cast-on stage will be used for this bind off. It doesn't really matter if the tail is coming off the front or back needle.
Now you will insert a third needle (hence the "three needle" bind off! AHA!) into the first stitch on the front, and then the back needle. I use a spare double pointed needle as my third needle, but really, any needle will do.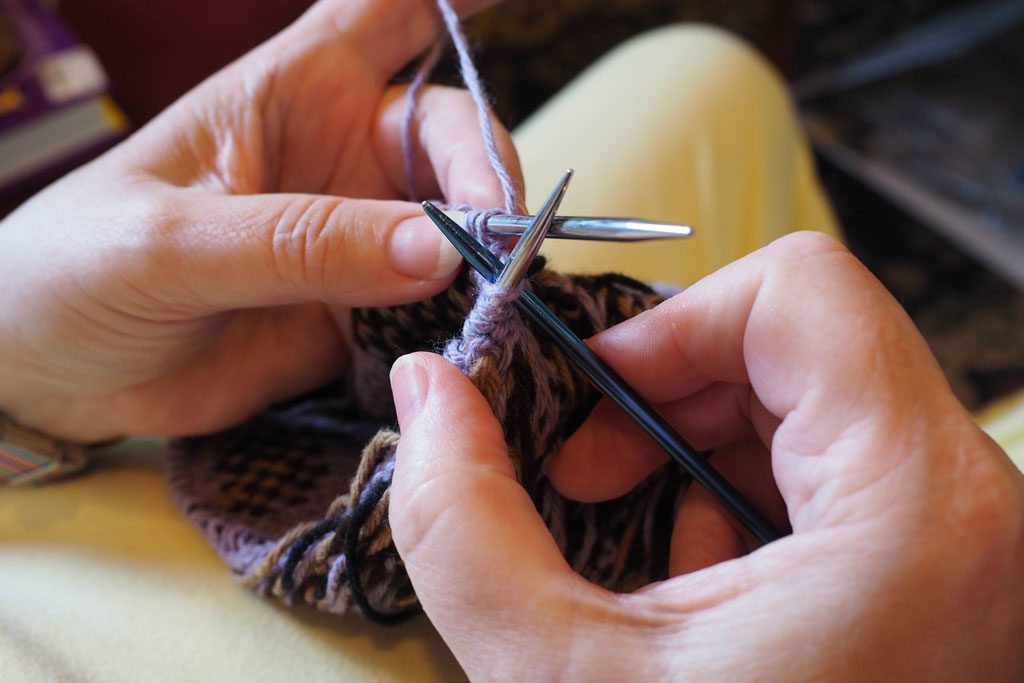 Wrap your yarn as if to knit, and pull through both stitches on the third needle (knit two together).
Now slide those stitches carefully off the two left hand needles, so that you have one new stitch on your third (right hand) needle.
Repeat the whole process again with the next two stitches on your left hand needles. You should now have two stitches on your right hand needle.
Now you will do a traditional bind off, slipping the first stitch over the second, so that one stitch remains on the right hand needle.
Now you will repeat these steps – knit through first stitch on both front and back left hand needles (knit two together), and again, then slip the first stitch over the second on your right hand needle to bind off one stitch.
Keep it up until only one stitch remains on your needle! Now you can pull the yarn through and pull tight to finish off the seam.
You'll see how this bind off method makes a nice raised seam on the inside of your work. It is extremely sturdy, and because it is knitted and not sewn, it won't come unraveled with wear!
Flip your hedgehogs cover right side out, and take a look at that nice neat seam!
Speedier, tidier, and sturdier than a sewn seam – what's not to love about the three needle bind off? With buttons sewn in place, your Hedgehogs Smartphone and Tablet Cover is good to go!