Well! It's been quite a New Year here – an icky stomach bug threw us all for a loop, we had a very sick hamster (luckily she appears to be on the mend), and in the meantime, plenty happening in the world of knitting. I feel like I have so many updates to make, I will never get to them all and something will slip through the cracks. But first things first: my Lindisfarne Poncho pattern was published on January 6, 2020 in the new Knit Picks Entwined collection! I'm super excited because the whole group of designs – their annual Celtic collection – is amazing, and I already want to knit at least two of them for myself! But before I do so, I'd like to share the background on my own poncho design.
My Lindisfarne Poncho has been in the works for several years now – at least as far back as 2016. I originally envisioned it to be part of a stand-alone collection of designs inspired by medieval places, and who knows, perhaps it still will be! For this particular design, I wanted to translate into knitting the beautiful intertwining Celtic knotwork of a medieval (c. 700 CE) illuminated manuscript called the Lindisfarne Gospels.
What better way to recreate complex knotwork than with an Aran knit? I wanted to combine several intricate Aran patterns, and then create my own complex pattern in the center which would include some Aran tricks of the trade including increases and decreases. Since the cable work would be so complex, I didn't want to have to worry about shaping a sweater as well. So a two-panel poncho was the solution.
Charting a complex Aran design is not exactly straightforward, and I had to make several attempts before I was finally satisfied with the large central knot.
When I was happy with the central cable design, I had to choose other, more standard cable patterns to flank either side, and then sort out the measurements for three different size options (child, adult s/m, adult l/xl).
Finally, I wanted something a little special at the neck to give the poncho a finished look. I decided on a crossover collar with buttons so that the collar could be left open or closed.
I was really happy with the final garment. The knotwork is complex and beautiful and really does bring to mind a medieval manuscript, but the garment design is straightforward and totally functional. I have some very intricately cabled sweaters, and they feel a bit like I'm wearing a suit of armor because they are so heavy and stiff. This poncho is not overly heavy, and the lack of sleeves adds to its flexibility. All in all, a good knit!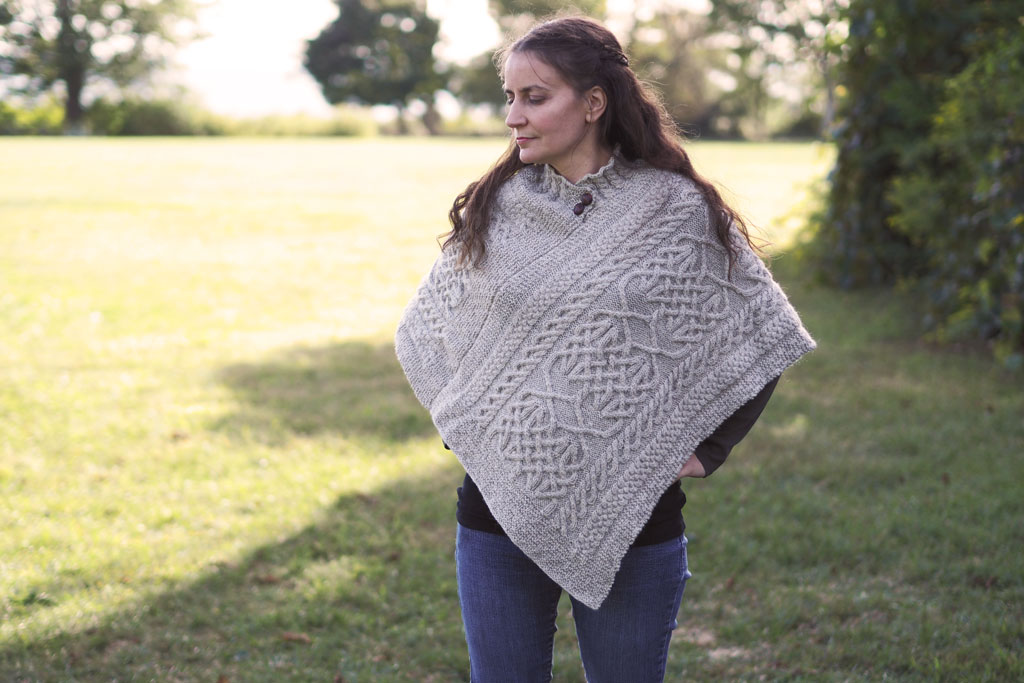 After working out the adult s/m (my size), I altered the design to fit onto a child-size poncho. I had to eliminate one of the two cable patterns on either side of the central panel, but the beauty and complexity is still there. The result is really sweet!
At that point, I set the project aside and moved on to other things, hoping one day to publish the complete collection. While the design sat collecting dust, it was doing me no good at all! So I submitted it to Knit Picks for their Celtic collection and it was accepted. Now I was tasked with testing out the last and largest size of the poncho, in Knit Picks wool. I decided to use their Simply Wool Worsted, which is a beautiful, thick eco-wool in natural undyed colorways. While the actual manuscript of the Lindisfarne Gospels is exquisitely illuminated in gold and brilliant colors, I just couldn't picture this poncho in a bright jewel tone. The natural sheep wool sets off the cables perfectly. I decided to use the darkest colorway available to see if the design would still be visible. Here is the result in Simply Wool Worsted, Wordsworth:
My mom was kind enough to model the largest size for me, in the height of summer. I think the colorway is beautiful and still shows off the cables well.
My pattern was sent over to Knit Picks for edits and test knitting, and they chose a lighter colorway, similar to the one I used in my first test of the pattern. They chose not to include buttons on their test knit, to show how the collar looks when open. I think I prefer a buttoned collar, but it's nice to see both options. Here are a few of their professional photos:
Those of you familiar with my Portree Poncho will see that the construction of the two ponchos is identical (I actually designed the Lindisfarne first!) but the Portree is much simpler, both in the Aran cables and in the fact that it has no collar. The Lindisfarne is a bit like the Portree on steroids – a step up in terms of expertise, but equally fun to knit and to wear!
The Lindisfarne is available both as an individual download and as part of the print and ebook collection Entwined. Head on over to Knit Picks and check out all the beautiful designs in this collection!