In my last post, I talked about the inspiration behind my Deer in the Meadow Cowl design. This time, I'd like to offer a short tutorial on carrying yarn in a stranded knitting project. This particular project has sections in which the yarn not being used needs to be carried quite a long way. I'm going to show how I handle these long carries.
First of all, the general rule of thumb in stranded and Fair Isle knitting is this: never carry yarn floats for more than 5 stitches before securing them by wrapping the yarn not in use around the yarn in use. Here's how to do it.
Knit five stitches with the yarn in use. In this photo, the yarn in use is the blue. The yarns not in use are the rust and the black. Once five stitches of blue have been knitted, it's time to secure the rust and black floats. I've turned the cowl around so the wrong side is showing, but you can do this easily as you knit along on the right side. Step one: bring the yarns not in use over the yarn in use.
In Step 2 you will bring the yarn in use back up from under the yarns not in use, like this: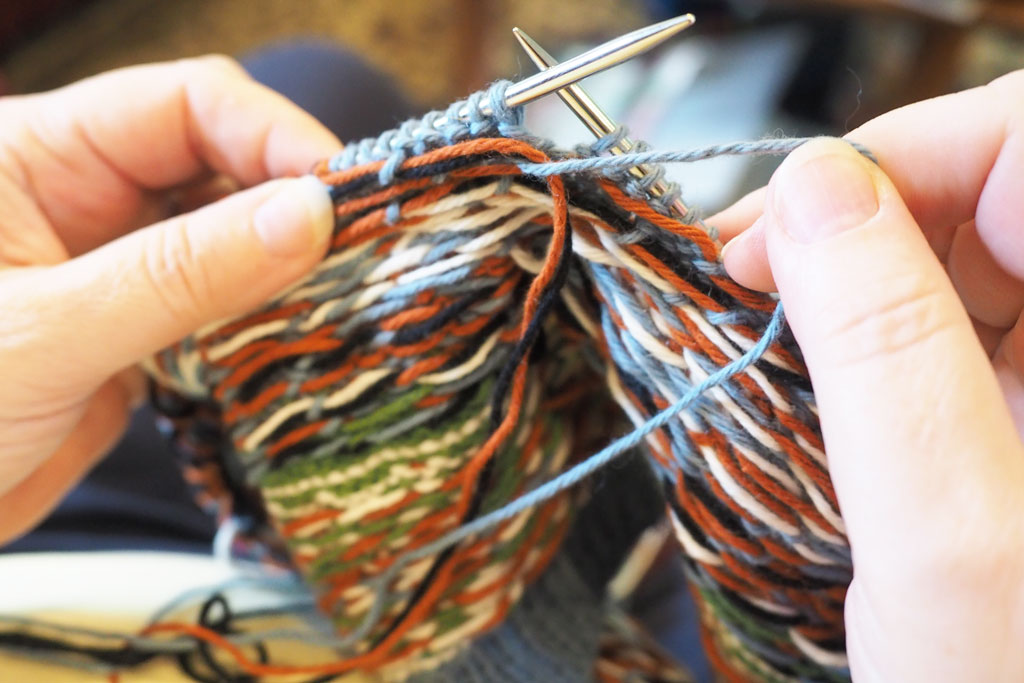 Here is how it will look from the right side, as you knit along. Yarns not in use go over, then bring up the yarn in use from underneath:
Now you will knit the next stitch with the (blue) yarn in use. The blue yarn here creates a small loop, which holds the yarns not in use securely (but not tightly) against the wrong side of the fabric, and keeps them from getting floppy or snagging.
Getting used to the tension on these floats takes some time. You don't want to pull them too tight, or your knitting will pucker. You also don't want them too loose, or you'll find holes in your knitting, and a sloppy mess on the wrong side. Keep working at it, and you'll soon find a good balance!
Another important tip is this: don't secure your floats in the same spot, row after row or round after round. It will leave a noticeable hole, and the unused colors might even pop through. Instead, alternate where you secure the floats. If you've secured them after every fifth stitch on the first round, secure them one stitch earlier on the second round, then go back to every fifth stitch on the third round. You'll be glad you did!
I hope this short tutorial will help to make this project go smoothly for you! Next post I will introduce a new scarf design, and then I'll be talking socks!