By all counts, 2020 was a TERRIBLE year. Full of stress, heartache, financial strain, and fear, it was a year on which we couldn't wait to slam the door. 2020 had its good and bad moments for my own family. Thankfully, we were able to make difficult but important life decisions to keep our family safe, and those decisions turned out to be the right ones for us. And despite all the upheaval and uncertainty, a steady dose of knitting kept me sane through it all. In fact, 2020 was one of my best years ever in terms of knitting. I found more time for designing, and I was able to release my very first collection of patterns after more than a year of hard work. So, while we don't dare "celebrate" 2020, I would like to look back at the positive moments in my little knitting universe, as a reminder that we can always find little glimmers of joy in a time of crisis.
My first design published in 2020 was the Lindisfarne Mantle. I had been working on this release for nearly a year, but it was lovely to see it up and available in the Knit Picks collection Entwined. This is a two-paneled mantle with a complex Aran cable motif, a kind of elaborate little sister to my Portree Poncho design. The design is popular, and I love to see all the Lindisfarne projects posted on Ravelry!
My next release was the Wilmington Capelet, a simple but elegant design with bulky weight yarns in two very different textures. I'm particularly proud of the elegant construction on this design!
While I actually released my Alhambra Shawl design in December 2019, I did not advertise its release until April of 2020 (with the warmer weather coming). It's a complex lace design, and lace is NOT my thing, so lace pattern releases are a rare occurrence for me. But I do love the airy motifs in lace-weight wool.
In the summer, I released my Collie Cowl design, a companion piece to the Cowl's Meow cat cowl. I also tried my hand at translating both patterns into Italian. Laborious work, but it's nice to offer the pattern in more than one language!
In August, as the isolation of quarantine really started to wear on us, I released the Visconti Shrug, an elegant design with a vintage feel in fabulous faux fur.
September 9th was a big day – I released my Woodland Critters Collection!
After many, many months of hard work, I was so pleased to have all ten designs available, and with really positive reviews. Here are just a few of the designs in the collection.
In October, I released a freebie: the Yarmouth Marled Mitts, featuring a new marled version of Knit Picks' Palette yarn.
November seemed the right month to release a scarf design. East Anglia is a tubular stranded knitting design that is warm and lofty for cold months ahead.
Finally, in December came the Brown Bear, Brown Bear sweater – a kind of addendum to my Woodland Critters collection. This is a cute child's pullover with bears lumbering in a pine forest!
While this represents my most productive design year to date, I also got in quite a bit of knitting outside of the design world, too. I worked on Icelandic Lopi sweaters so that I could hit up my brother for his modelling skills during his only visit from the UK in 2020.
I also knitted – and sold – many, many, MANY owl mitts on my Etsy site. Sometimes I'd list a pair for purchase and I'd be wrapping them up for shipping by the next day!
I worked with a client to find just the right shade of green for a Kildalton hat, and I was so pleased with the result, I created a second one with the remainder of the yarn.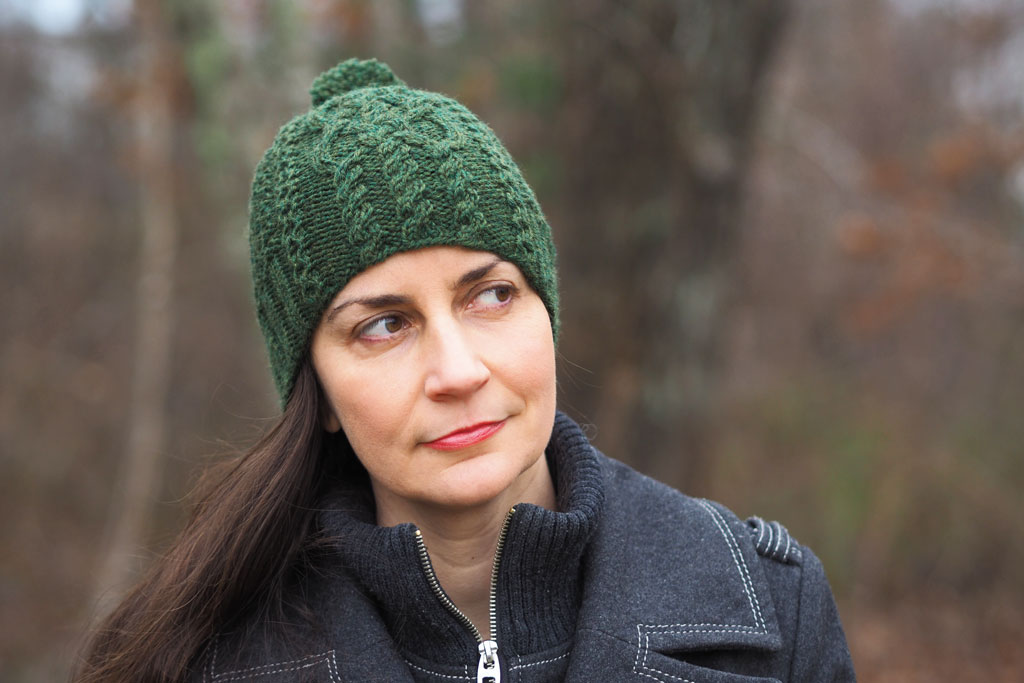 I also adapted my Deer in the Meadow Cowl design into a hat for a favorite client, and I love the results!
So, as I said, this was an incredibly busy year of knitting! I'm grateful to have had a few more moments of time to put all of these designs together. I don't think 2021 will hold quite as much "free" time, but one never knows. I do already have some designs in the works, including two new hat designs, and a shawl pattern I've been itching to do since our trip to the UK in 2019.
Raising a glass to better times ahead! Happy knitting in 2021!