Hello everyone! A very Happy Easter and Happy Passover to those who celebrate!
I've fallen woefully behind on my posts, because the last two weeks have been difficult. We had a bit of an accident in the family, which involved a broken elbow and an emergency surgery in Hartford. All is well now, but we've had some stressful moments here. Things are even more difficult because of the pandemic, of course. But so far, so good – despite hours and hours spent in hospitals and medical facilities, we've been safe and well.
So, now I can FINALLY get back to work here on my blog. And I am happy to present my newest published design: the Beak Street Tee!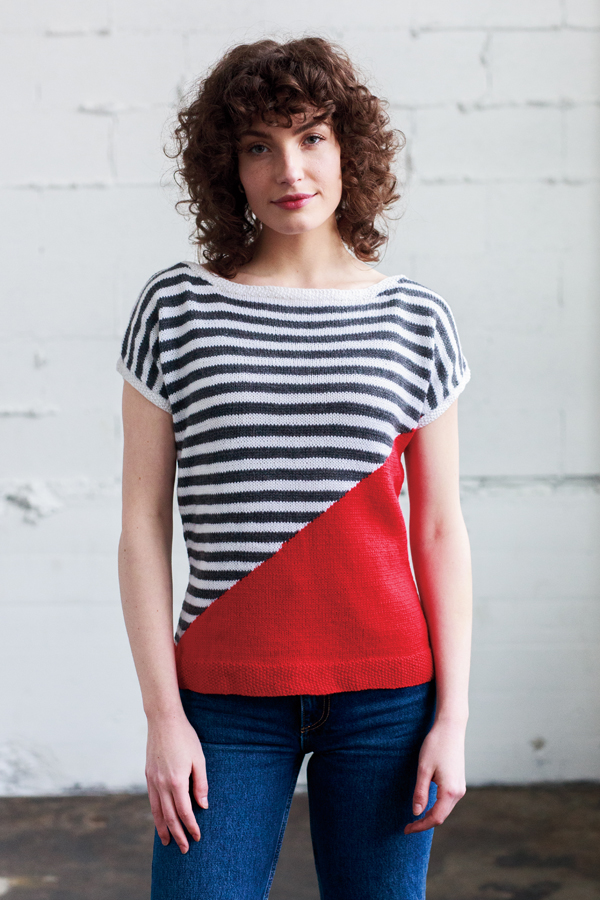 This is rather outside the box for me – my designs tend to be very traditional: cables, Fair Isle, etc. But when Knit Picks put out a call for designs inspired by the 1960s "Mod" movement, I decided to give it a try! Mod designs feature large color blocks or optical illusions, bold geometric shapes, and contrasting colorways. In fact, "Beak Street" is one of the streets in London's Soho district where Mod fashion flourished. I wanted to play with some of these ideas in a cute, contemporary tee design. I liked the idea of stripes slashed by a solid triangular block of color. And the only way to create this kind of knitted design is with…INTARSIA!
For those of you who are not familiar with the technique, intarsia is a way of connecting two different yarns midway through a knitting row without leaving a hole. Unlike with stranded knitting, where all colors are carried around and worked here and there in the row or round, intarsia works one color, then switches off to another color, and so on. Intarsia is often worked with small "bobbins" of yarn, and it is typically worked flat. So, I designed this tee in two pieces, to be sewn together at the side and shoulder seams. The sleeves are all part of the body – no need to pick up and add later.
It was fun to work out the stripes and solid for each row. I added waist shaping and a wide boat neck as well. The sleeves are just a little bit puffed. All in all, it's a cute and super comfy tee for spring and fall wear.
I knitted this tee using Knit Picks Stroll sock yarn, but it could be knit in any fingering weight yarn, including cottons, if you wanted a nice summer tee. The Stroll is super soft and washable, with plenty of bright color options.
I had fun in the initial photo shoot, trying (unsuccessfully) to sport a "Mod" look with my hair and makeup. Clearly I am not cut out for this fashion trend!
You can find the Beak Street Tee pattern available for download on the Knit Picks website. Or, check out the entire Mod collection in Vertex!
For next time, I'll offer a quick tutorial on intarsia technique for the Beak Street Tee. Until then, happy knitting!