One of the simplest designs in my Woodland Critters Collection is the Deer in the Meadow Cowl. It's a relatively quick knit, in hypoallergenic DK cotton and linen, with super simple construction. Nevertheless, it's a really eye-catching garment with a pretty Fair Isle motif and deer grazing in the meadow!
While the construction of the cowl was really easy to figure out, the motifs? Not so much. I started out with the deer motif from my Woodland Critters Scarf as my inspiration.
Just above the deer is the basic "grass" motif. I just needed to combine them, placing the grass at the hooves of the deer. However, These alert deer don't exactly give a "grazing" vibe! So I wanted to create a second deer munching on the grass.
Easier said than done! This was a tough job, and I spent hours studying images of deer, then charting and re-charting the grazing deer until I had it just right. I also had to fiddle a bit with the grass so that the deer looked just right in the meadow.
Next I needed a Fair Isle motif to frame the deer. Finding a motif that will fit within the right number of stitches is always a challenge. I finagled this one a bit so that it would work out correctly. I also wanted a good contrast to the blues and browns, so I made sure that the main colors were white and green.
A bit of ribbing on either end, and the design was complete! I really like the feel of the Knit Picks Cotlin, a cotton/linen blend yarn. It's surprisingly warm, especially with the stranded knitting making a double layer, but it's nice and soft, with good stitch definition. Definitely a great yarn choice for a cowl!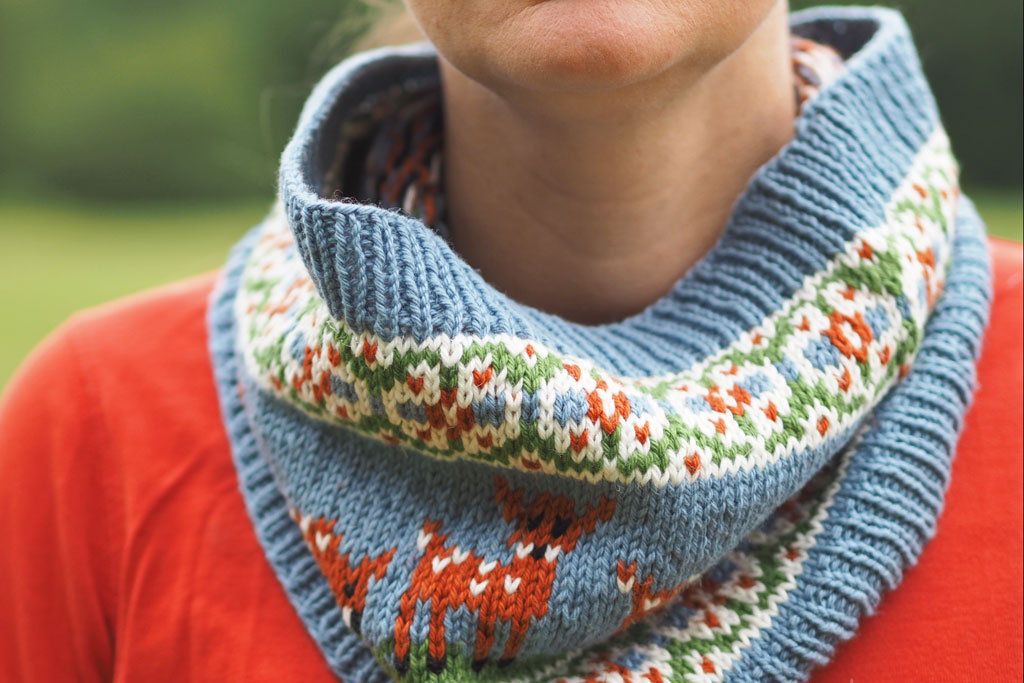 Next time, I will offer a simple tutorial on long carries using the Deer in the Meadow Cowl. I'll see you then!