Hello all, and Happy late November!
I'm a wee bit behind on my blog posts (teaching this semester has been kicking my butt!) so I will try to catch up over this holiday break! I have two new designs to introduce: the East Anglia Scarf, and the Brown Bear, Brown Bear Sweater! This post will focus on East Anglia.
I like to use place names for my designs – geographical destinations that evoke the colors or the theme of my design. Many of these locations are in the British Isles, or here in the northeastern US, where I live. So where exactly is East Anglia? Well, today, it's an area of eastern UK, mostly consisting of Norfolk and Suffolk which jut out into the North Sea. All well and good, but what I actually had in mind with this place name was the sixth-century Anglo-Saxon kingdom of East Anglia!
WHY, you might ask? Well, I've really enjoyed watching The Last Kingdom, a television series based on books by author Bernard Cornwell in which the dashing Uhtred navigates the combative relationship between Angles, Saxons, Britons, and Danish invaders. I even went so far as to read the first novel in Cornwell's series, and while it wasn't mind-blowingly good, it was certainly entertaining to read! In the series, East Anglia is depicted as a land of marshes and low-lying fens, an area called "The Wash" with its tidal floods and dangerous quicksand ready to suck in an unwary traveller. And the East Anglians, in this depiction, eeked out a meager existence on frogs and shellfish.
SO, when I went through my stash looking for yarn to make this scarf, I found two warm shades of green in Knit Picks Palette, and the combination just looked so wonderfully marshy and froggy that I immediately thought of East Anglia!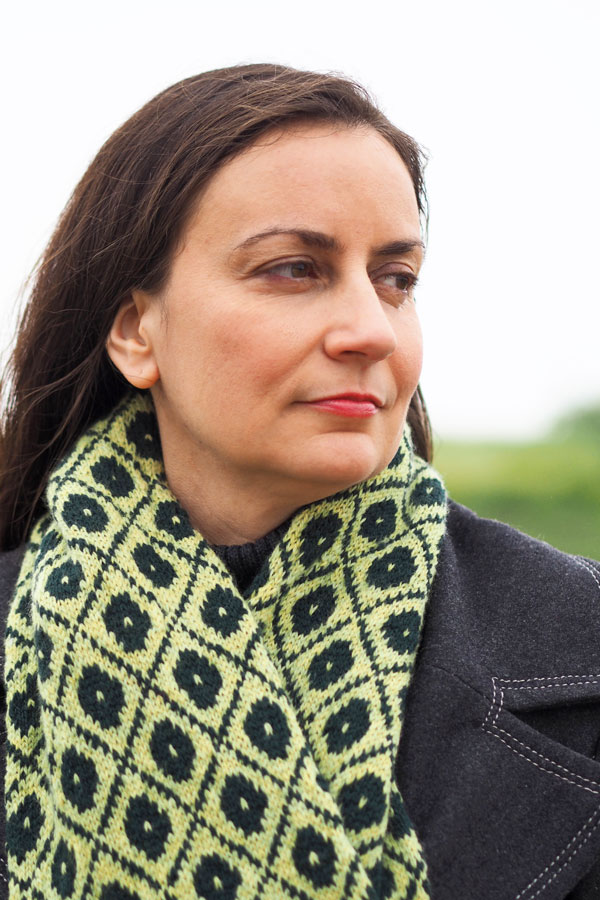 This design is relatively simple, with two contrasting colorways and a beautiful all-over diamond motif. The scarf is knitted in the round as a tube, so it is reversible and extra warm. Any two contrasting fingering weight yarns will work for the design, so it's quite flexible! Here is a second alternative I created using a burnt orange paired with a dark navy:
The scarf is also extra long, so it will work for a wide array of sizes, and any gender.
What colors would you choose for your scarf? I'd love to see this in all sorts of interesting colorways! Go check out the design on Ravelry, and share your projects if you decide to make the scarf!