Something about being cooped up at home for nearly a year, with no chance to travel or see much beyond my back yard, really has me pining for family trips we took years ago. We generally didn't have much money to set aside for fancy getaways, so most of our family vacations were camping and hiking excursions, and our favorite destination was the White Mountains in New Hampshire. We hiked Mount Washington a number of times, along with some of the smaller peaks. We got soaked in our not-so-waterproof tents and had to remove leeches after swimming in an ice cold mountain stream. It was all glorious, and we loved it.
One of the most beautiful spots in the White Mountains is Franconia Notch, with its scenic vistas and beautiful falls. I loved looking out over endless expanses of pine forest, as if the world were new and fresh and untouched by the troubles of humans.
This peaceful view is what came to mind when I decided to work up a new hat design. I have lots of vintage sport weight wool sitting around, and nowhere to go with it. I thought it would be neat to create a sport weight Aran cabled hat with an evergreen tree motif front and center.
And here it is! The Franconia Hat!
I wanted something relatively simple and not fussy – no elaborate Celtic knots this time – so that the evergreen motif would really stand out. Of course, this "simple" design turned out to be one of the most complex to work out. I spent hours writing and rewriting the pattern, especially the crown decreases. I also worked hard to get the perfect "beanie" height, so it would fit snugly on the head without being slouchy. In the end, I'm really happy with the look of it!
Since this is a very traditional – and deceptively simple – design, I wanted to include a few "surprises." While most of my hat designs have a continuous pattern around the entire circumference, this hat has a definite front and back to it. I chose an interesting barred rib design that complements the cables on the front.
Second, I wanted a defining feature of the hat to be the contrasting pompom. I think this adds some interest to the design without diminishing the hat motifs.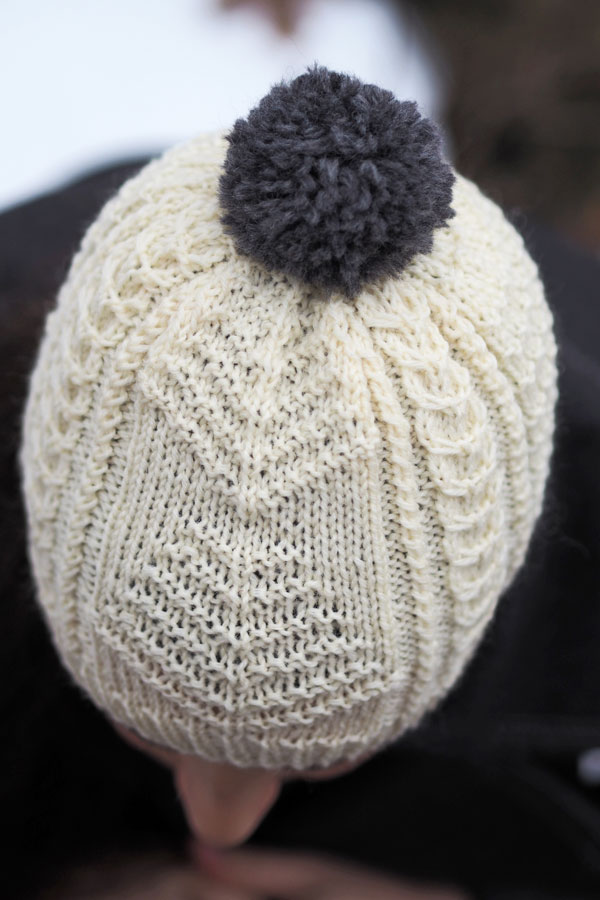 Working with vintage yarn (my guess, from the late 1960s) is always an adventure. Typically there is no yardage, so you have to dig around on the internet or make an educated guess. It also seems to have "sizing" which makes the wool feel extremely stiff and itchy before washing. I knit the first test hat and nearly threw it out because it felt awful. But after a good wash and block, the wool was soft and supple and good as new.
For the second test, I decided to go with a readily available wool: Brown Sheep Nature Spun Sport. It's not so different from the vintage wool, but it comes in myriad colors, and one ball will make every size of this hat! Perfect.
I went with the Ash Heather, a beautiful light beige with grey undertones. The natural off-white pom is a subtle contrast, but I really love it.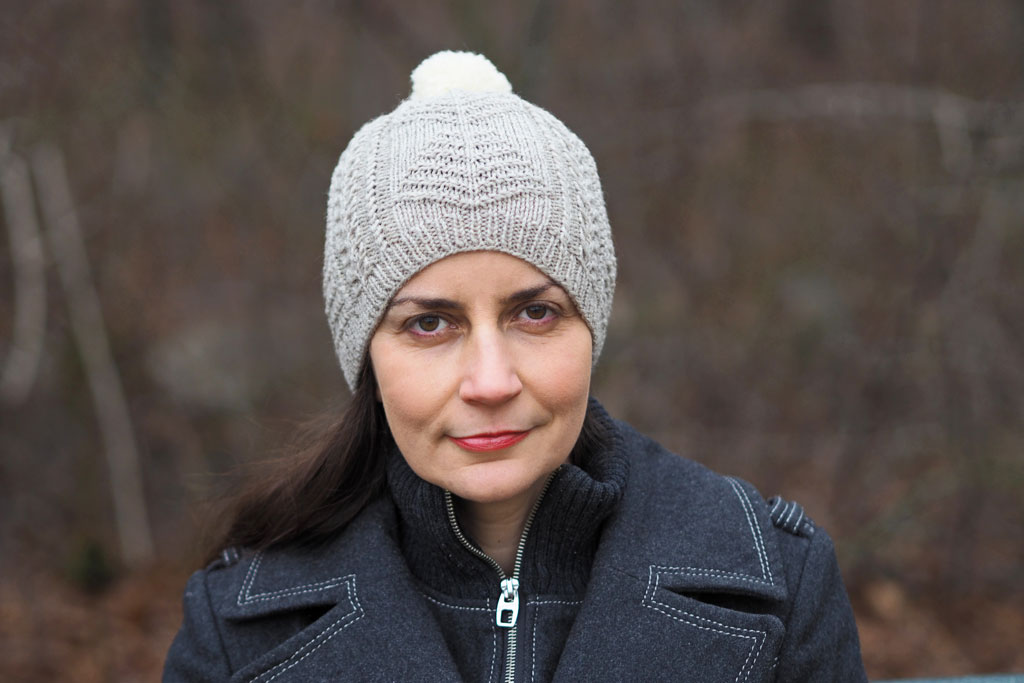 For the three smaller sizes (baby, toddler, and child) I didn't want to use 100% wool. So I worked up the child hat in an acrylic/wool blend (vintage once again) and I was happy with the results! Baby and toddler were 100% acrylic.
I think this is a great hat pattern for using up the odd skein of sport weight yarn. So many color variations are possible!
I hope the Franconia Hat will bring back your own good memories of peaceful days in the great outdoors! Go check out the pattern on Ravelry, and show me your own project if you decide to make yourself one!