Hello! I have so many updates to share in the upcoming weeks, but I promised one follow-up post to my original on the Sherwood Forest Cloche, so let's not get too far ahead of ourselves!
First, I want to share some photos of the Sherwood Forest in a second colorway:
Still Knit Picks City Tweed DK, this colorway is very different from the muted forest hue of the original. It is called Larkspur, and sadly it is now discontinued, but we happen to have a boatload of it in our stash (what was my mom planning? Who knows!), so I gave it a try. Wow, the bright robins' egg blue really stands out!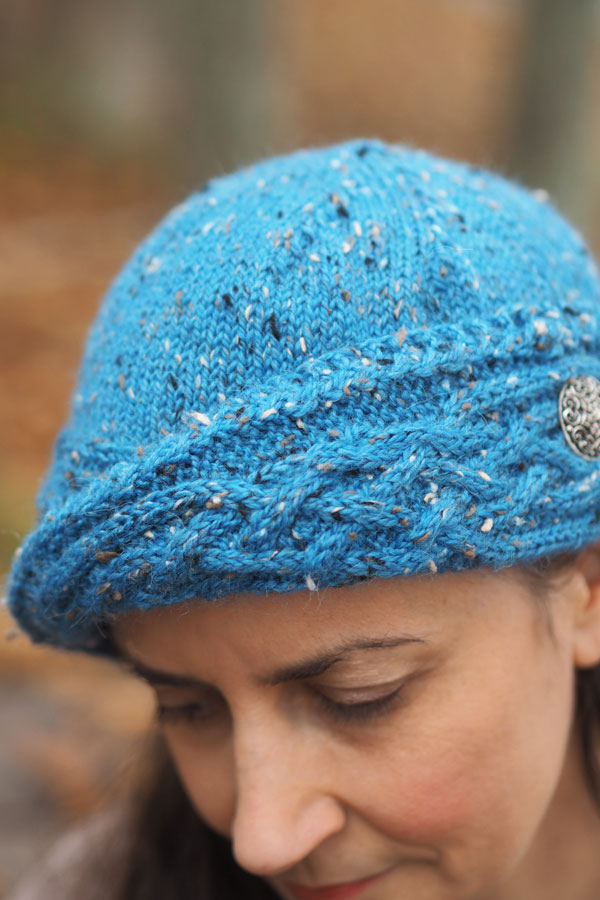 Not a color I would typically choose for myself, but I think it is beautiful nonetheless! It certainly shows off the cables really well.
Ok, now that you've had a look, I will be using this colorway for a quick how-to on picking up the crown stitches along the side of the cable band. It sounds super easy, but there's a little trick to it, so here we go!
Once you have completed the cabled band and you've grafted the two short ends together using Kitchener Stitch, you will fold it in half to make a kind of tube, with two loose edges on one long end of the tube. You'll be picking up stitches along those two loose edges.
The key to picking up stitches along these two edges is to pick up into the back loop of both stitches – in other words, pick up into the loop furthest from you on the side of the band closest to you, and pick up into the loop closest to you on the side that is further away. The reason to do this is to leave a complete "knit" stitch showing as a nice neat border along the top edge of the cable band's reversible sides.
For example, if you picked up the stitch by going into its front loop, or through both of its loops, you would leave only half of the knit stitch showing along the cable band edge.
Once you've slid your needle through the proper loops on each side of the band, just knit through both at the same time. This makes a single stitch, and grafts together those two loose edges of the band, all in one fell swoop!
Continue around, picking up the appropriate amount of crown stitches along those two sides of the band. Be sure you are picking up into the back loop of each stitch:
Once you've picked up the right amount of stitches, it's so easy to finish up the crown of the hat in stockinette stitch with simple decreases. And you've got a fully reversible band with no additional seaming or grafting!
I hope you enjoy the Sherwood Forest Cloche! In upcoming weeks, I'll introduce my new release, the Reykir Pullover, I'll highlight some upcoming projects, and I'll talk about my the new Ravelry Group I've launched to run some test knits. I'll be running my first test in March, if all goes well!