Hello all! So, my newest design was released a week ago, and my test knitters have worked SO hard to perfect the design. I'm really excited about this cute summer design. Without further ado, let me introduce the Napatree Tee!
Those of you from my neck of the woods might recognize the name: Napatree Point is a beautiful conservation area along the Rhode Island coast, a kind of sand jetty that juts out into the water at Watch Hill beach. I always associate Watch Hill with that old-fashioned mix of elegant al-fresco dining and barefoot wanderings among the waves. This tee feels like the perfect combination of elegance and comfort, something you could wear to dine out or for a walk on the beach.
This design began with an actual tee-shirt I own – something so worn and ratty, I'd be embarrassed to show it in public. It is VERY comfy, and I love some of the details – the fit, the flouncy sleeves, the ruching at the shoulders. I wanted to try to re-imagine it as a knitted tee, using a summery yarn with a nice drape and just a bit of a lace detail at the edges. This led to the birth of the Napatree!
For my very first attempt at the design, I scrounged up an old cone of cotton/rayon of unknown origin or yardage or weight. I figured I could make it work and figure out the details later. The yarn was a warm rust brown with an interesting slub texture. On a larger size needle, it worked out to 22 stitches = 4″ (10cm), with good drape.
I worked out a simple but interesting eyelet rib pattern for the edging. I was happy with the waist shaping, and the deep v-neck was simple to work out as well.
Slightly trickier was the shoulder shaping. I knew I'd have to make the back shoulders longer than the front shoulders, to accommodate the gathers on the front shoulder edges. I also needed to shape the shoulders at the same time. So, this tee quickly became a short-row design!
One of the most interesting elements of this design are the gathers at the shoulder. they fall at the shoulder seam, which is just slightly toward the front of the tee, not at the top. I tried several different methods to get the gathers as I wanted them. I didn't want overdone pleats, but instead something a bit softer and more pliant. I finally decided on a simple gather involving three needles, knitting stitches from the front and back needles on the left.
I will present a tutorial on this gathering technique very soon. Until then, I found this video very helpful. It shows the method for making a left gather.
Once the gathers are complete, the front and back shoulders are grafted together using three-needle bind off, which creates a nice, invisible seam.
Finally, since I had already introduced short rows into the design, I decided to try an innovative short row cap sleeve! One reason I rarely use set-in sleeves in my designs is because the seaming always looks so messy. It's really difficult to sew in a sleeve and have it look like professional quality. But, with the short row method, stitches are picked up around the armhole, and then the cap sleeve worked from the armhole down and is shaped using short rows! I think it makes for a nice, neat attachment of sleeve to body.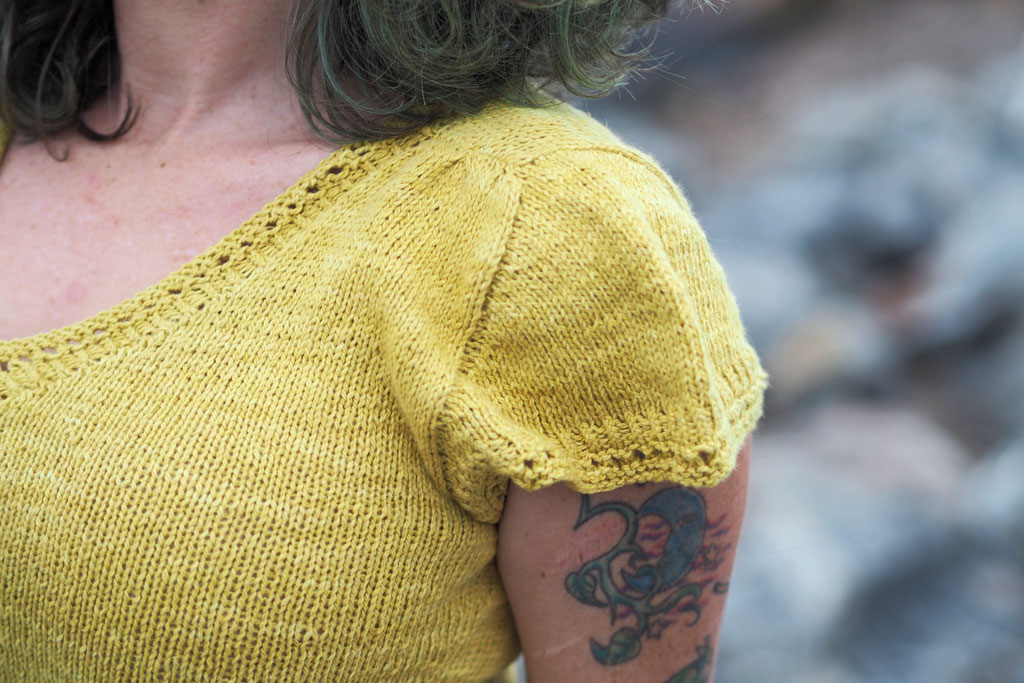 After working through these details on my cone yarn, I decided to search for the perfect summery yarn available commercially. I wanted to support a small, US business, and I found the absolutely perfect yarn from a wonderful company. Cestari Sheep and Wool Company is located in Virginia and produces beautiful wool, cotton, and linen blend yarns, kettle dyed in vibrant colors reminiscent of the Virginia landscape. I absolutely love the quality and affordability of their products, and I will be returning to try more of their yarn lines in the future!
For my second test of the Napatree, I decided on Cestari's Monticello Fingering, a gorgeous blend of Virginia-grown cotton and French linen. Take a look at the amazing kettle-dyed colorways available. How could you not fall in love?? This yarn has great drape, but enough firmness with the linen that it holds its shape well. I chose Tansy, an unusual gold with green overtones. It's a perfect, sunny, summer color!
While I model many of my designs, I really wanted a more "youthful" (heheh) model for this design. A friend of mine offered to help, and she did a fabulous job, despite all the pandemic restrictions AND the distinctly UNsummery weather in late October when we did the shoot. I can't wait to use her modelling skills again in the future!
I hope you'll enjoy this new design! Take a look at the design for sale over on Ravelry, and check out the amazing work of all my fabulous test knitters, too! Stay tuned for a tutorial on the shoulder gathers.